Overview
Signatures of Evaporation of Artificial Snow in Alpine Lower Troposphere (SEASALT) is a students' research project within the Education & Training framework of the EUropean Fleet for Airborne Research (EUFAR).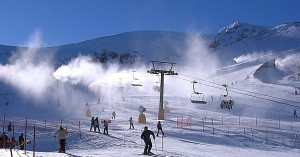 Conducted research is aimed at:
obtaining a proof and scale-estimation of the process of advection of the water vapour introduced into the atmosphere during man-made snow production which may have a significant impact on the Alpine water-budget
checking for various local microphysical interaction between the atmosphere and the artificially introduced man-made snow (aerosol concentrations e.g.)
contributing to a general air-quality comparison between the highly-urbanised ski-resorts and tourist-free valleys
The project is led by Sylwester Arabas (Institute of Geophysics, University of Warsaw, Poland).

The field measurement campaign, which was carried out in the Enns river valley in Austria in February/March 2008, was funded by EUFAR as a Transnational Access project. The airborne measurements were carried out onboard the FZK-ENDURO ultralight trike operated by Dr. Wolfgang Junkermann (Forschungszentrum Karlsruhe, Germany)
Field measurements
The field measurements campaign, focused on the airborne measurements on board the FZK-ENDURO ultralight trike, was carried out in the Enns river valley in Austria in the end of February, beginning of March 2008.
The FZK-ENDURO is equipped with a variety of instruments including:
radiation sensors:

METEO-CONSULT 4PI-SR Actinic Spectroradiometer
(hemispherical broadband UV irradiance in the 300 to 700 nm range)
LICOR RAD_UP/DN Visible/Near infra-red radiometer
(2 Pyranometers measuring up- and downward hemispherical broadband solar irradiance)
WALZ UV-PYRANOMETER
(hemispherical broadband UV irrandiance)

air composition probes:

PSI OZONE-UV-ANALYZER
(ozone mixing ratio by means of UV-Absorption measurement with 4 sec. time resolution)
Meteolab Dew/Frost-point hygrometer
(thermo-electric chilled mirror hygrometer )
IMK-IFU Hantzsch-Fluorimeter
(formaldehyde concentration with 90 sec. response time)
DDG/La Jolla OP-2 CO2/H2O
(CO2 and H2O concentration by means of IR absorption measurements)

particle counters:

TSI 3010 Condensation Particle Counter
(particle concentration in the size range from 10 nm to 3 um with 1 sec. time resolution)
GRIMM 1.108 Optical Particle Counter
(particle size distribution in the range from 0.3 to 20 um)
PMS/DMT FSSP-100
(cloud droplets size distribution in the range of 5 - 47 um with 1Hz time resolution)

light absorption/scattering meters

Magee SCI AE-42 Aethalometer
(absorption coefficient at 7 wavelenghts from 350 to 950 nm, time resolution 2 min.)
TSI 3653 Nephelometer
(backscatter and total scatter coefficients at 3 wavelengths from 450 to 700 nm)

aircraft position and flight parameter meters:

IMK-IFU 5 hole turbulence probe
(airspeed, aircraft orientation, instrument mounted on the nose-boom, operating in 20Hz time resolution)
Oxford Technologies Inertial Navigation System
(aircraft orientation with 80Hz time resolution)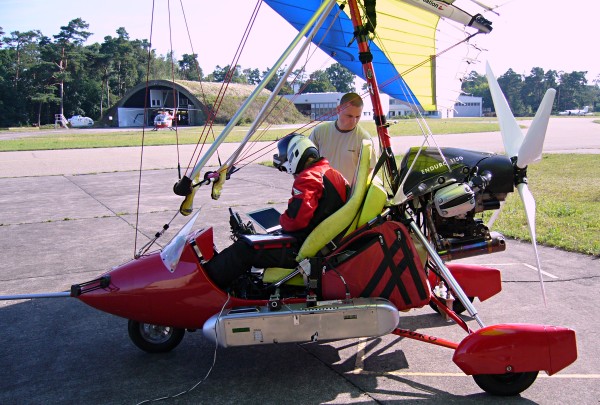 photo: K. Bednarek, IGFUW
Related materials
Quick-look data
SEASALT documents
Photos
Picassaweb gallery with a selection of photos from the field campaign in Austria
Web links
Press/w3 cuttings:
Datasets
Please follow the links below to download SEASALT datasets. Data is provided in
netCDF
format (easily readable e.g. by the
GNU Data Language
, IDL or Matlab). Description of variables and units follow NCAR/nimbus conventions (rf - research flight, tf - test flight).
airborne measurements
ground-based meteo measurements (temperature, humidity, solar radiation, precipitation, wind)
ground-based flux station measurements (sensible & latent heat fluxes, momentum flux, CO2 flux)
Hyperlinks above lead to v0.3 dataset, for previous release change v0.3 into v0.1 or v0.2 in the url.
The following KML files can be used to view SEASALT flights trajectories in various geo-visualisation tools including the free Google Earth tool (see screenshot below).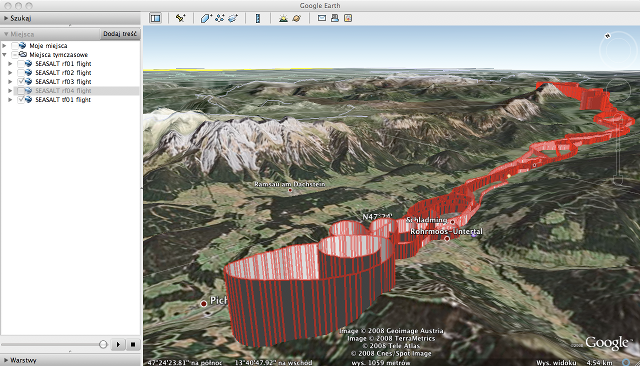 The SEASALT Campaign Diary might be a valuable companion for data analysis as it covers a record of meteo conditions as well as some quick-look plots. Flight trajectories together with some basic atmospheric parameters are presented in Flight summery animations. (see Related materials tab)